UnknownTekkit
Server Information
Discord Server
Statistics
| | |
| --- | --- |
| Uptime | 100% |
| Vote(s) | 86 |
| Rank | 449 |
| Score | 152 |
| Favorited | 4 |
Share This Server
You can also share this server with the following social links to help you get more players.
About This Server
Tekkit Classic • Minimal Restrictions • Custom Dynamic Economy • Land Claims • World Anchors* • Oldest Tekkit Classic Server • Actively Developed
IP:
classic.ut-mc.com
Website:
https://ut-mc.com
Tekkit Classic Version:
3.1.2
Minecraft Version:
1.2.5
Server Type:
Survial
Land Claiming:
Grief Prevention (Gold Shovel)
PVP?
Toggled with /PVP. Can be done almost anywhere at any time, assuming your target has PVP enabled as well.
Towny?
We do not offer towny, however you can make towns using Grief Prevention!
Last Map Reset:
October 28, 2023
UnknownTekkit, otherwise known as UT-MC, is the oldest Tekkit Classic server still standing! We launched in June 2014 with the goal to provide the least restrictive Tekkit Classic experience possible. We use a multitude of custom developed patches, fixes, enhancements improve performance, stability, and playability, without compromising on your experience!
Come find out what UnknownTekkit is all about!
How to install Tekkit Classic and join the server:
https://ut-mc.com/classic/getting-started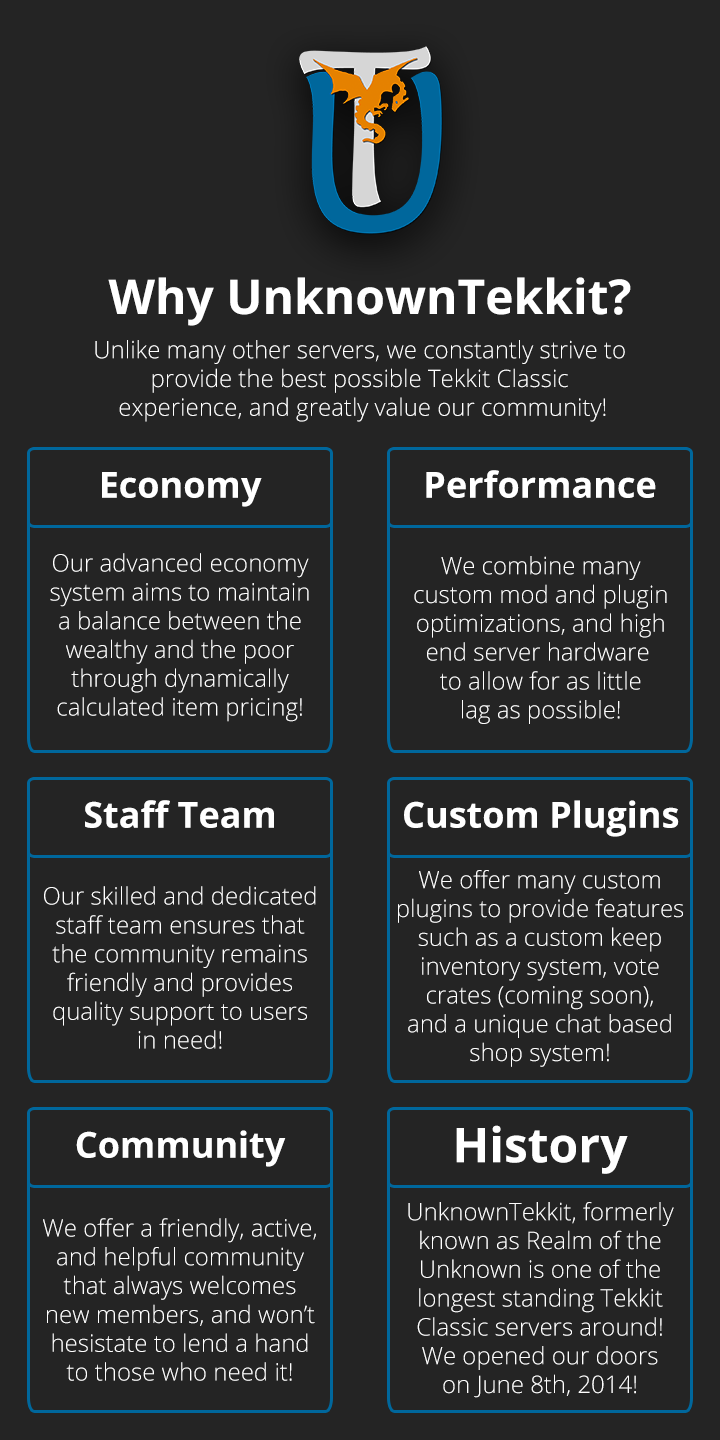 In case the server description image above does not appear, here are its contents:
Why UnknownTekkit?
Unlike many other servers, we constantly strive to provide the best possible Tekkit Classic experience, and greatly value our community!
Economy
A dynamic and advanced economy system helps keep a balance between beginning and end game users!
Performance
A combination of high end server grade hardware and custom patches provides a smooth and enjoyable experience for all users.
Staff Team
Our skilled and dedicated staff team ensures that the community remains friendly and provides quality support to users in need!
Custom Plugins
We offer many custom plugins to provide features such as a reliable keep inventory system, vote crates, a unique chat based shop system, and cloud chests!
Community
We offer a friendly, active, and helpful community that always welcomes new members, and won't hesitate to lend a hand to those who need it!
History
UnknownTekkit, formerly known as Realm of the Unknown, is one of the longest standing Tekkit Classic servers around! We opened our doors on June 8, 2014!
What is the server IP for UnknownTekkit?
The IP address of UnknownTekkit Minecraft server is classic.ut-mc.com
How do I play on the UnknownTekkit Minecraft server?
Open the Minecraft launcher, next click the "Play" button, then select "Multiplayer" from the main menu.
Click the "Add Server" button to open the server information form then copy & paste the IP Address classic.ut-mc.com in the "Server Address" box then press click on "Done" button.
Once the connection to the server is verified by Mojang session servers and is available, the connection icon will turn green and you can click on the "Join Server" button to play on UnknownTekkit.
What Minecraft game version does UnknownTekkit server support?
UnknownTekkit supports Minecraft version: 1.2.5.
Keep in mind that many Minecraft servers might allow players to use older or newer versions, so we invite you to check on their Discord server or Website for more information on version compatibility.
Where is the UnknownTekkit Minecraft Server being hosted?
The UnknownTekkit server is currently hosted in United States of America with an uptime of 100%.
What gamemodes can I play on the UnknownTekkit Minecraft Server?
You can play Bukkit, Economy, Land Claim, PvE, PvP, Ranks, Survival, Tekkit on the UnknownTekkit server.
What is the website for the UnknownTekkit Minecraft Server?
The website link for UnknownTekkit is https://ut-mc.com.