Tumbleweed MC

Statistics
| | |
| --- | --- |
| Uptime | 100% |
| Vote(s) | 124 |
| Rank | 348 |
| Score | 207 |
| Favorited | 0 |
| Discussion(s) | 0 |
Share This Server
You can also share this server with the following social links to help you get more players.
Embedded Vote Button
View all embedded options
Description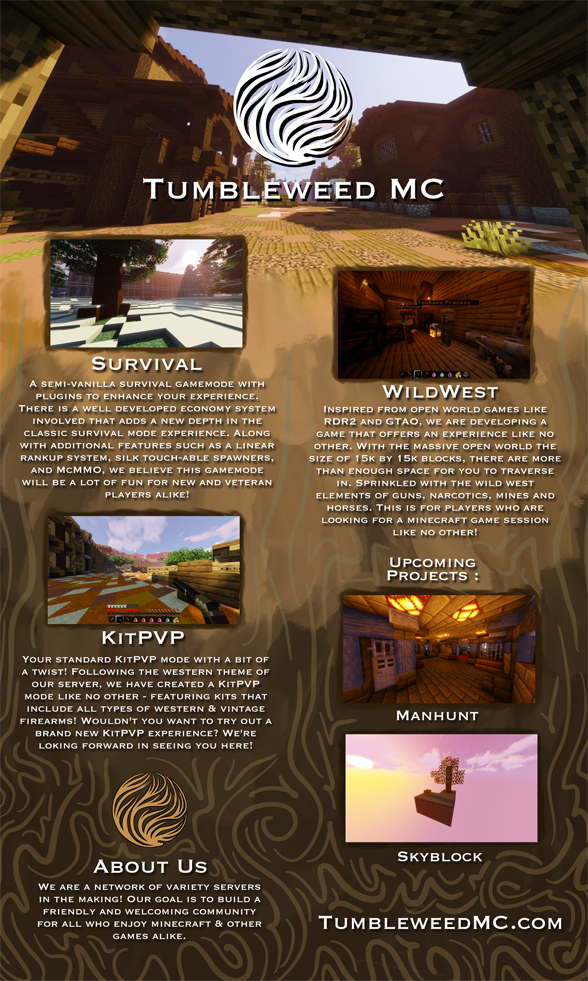 [ KitPVP ] - (With Guns)
[ ManHunt ] (YouTube)
[ Survival ] - (Economy/Prison)
[ Skyblock ] - (Coming Soon!)
[ Slimefun ] - (Machines)
[ WildWest ] - (Western)

Java Server with Bedrock Support : ) Bedrock.TumbleweedMC.com
Newly launched network featuring a survival prison hybrid server. Normal survival world with plugins like McMMO and a custom land claim plugin. With prison server features such as the server mines & rankup perks. Beyond the survival gamemode, we also have an RPG gun gamemode inspired by RDR2 & GTA Online. We also have other gamemodes such as Skyblock and KitPVP in development and releasing soon! Seeya there!