Wereldbouw

Server Information
Discord Server
Statistics
| | |
| --- | --- |
| Uptime | 100% |
| Vote(s) | 0 |
| Rank | 3870 |
| Score | 0 |
| Favorited | 0 |
Share This Server
You can also share this server with the following social links to help you get more players.
About This Server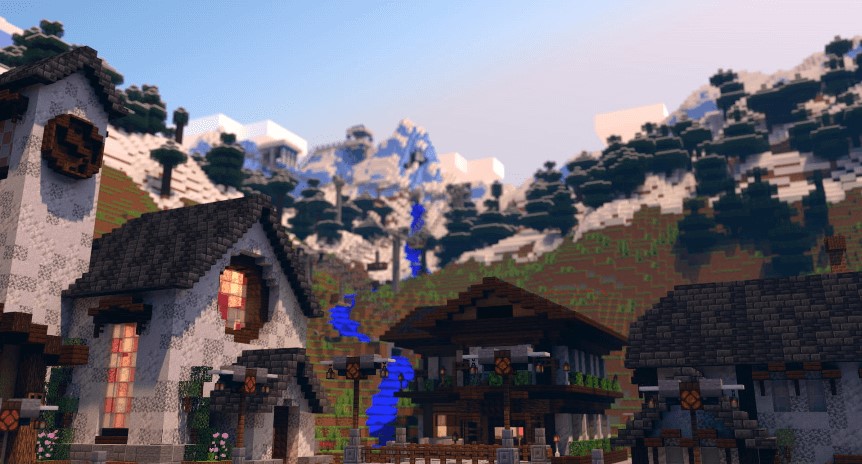 Hoi! Welkom op Wereldbouw. We spelen zoals in survival singleplayer, maar dan met andere spelers. PvP staat standaard uit en griefen is streng verboden. Verzamel spullen en gebruik deze om je eigen huis, stad of rijk te bouwen. Bouw boerderijen, mobfarms of redstone-machines. Verken de wereld te voet, te paard of met elytra. Werk samen of juist alleen.
Website:
https://rutgerkok.nl/minecraft
Discord:
https://discord.gg/WhRsgmJ
IP: mc.marijnk.nl
We hebben een rank- en puntensysteem. Je krijgt vanzelf punten als je online bent. Met die punten kun je handelen, teleporteren en je huis beschermen. Maar geen zorgen: alles wat in standaard Minecraft kan kost geen punten. Hoe hoger je rank, hoe meer opties voor handelen, bouwen en teleporteren. Vanaf de rank Veteraan kun je bijvoorbeeld zelf tolpoorten en minigames bouwen.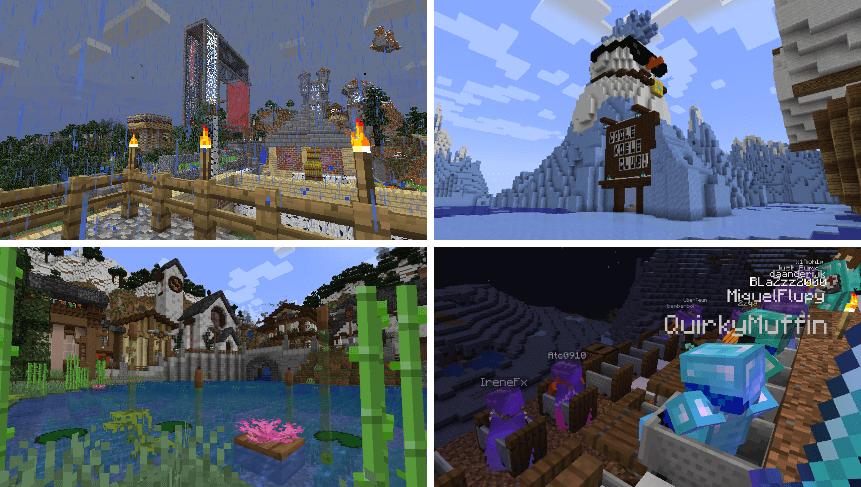 • Survivalserver zonder cheats of griefen
• PvP staat uit, maar je kunt het voor jezelf aanzetten
• Geen "donaties" of stemmen: je komt alleen vooruit door te spelen
• Wereld is praktisch oneindig groot
• Kleine, gezellige en gemoedelijke community
• Actief serverteam: als er gegrieft is, of als de chat uit de hand loopt, lossen wij het op
• Aanpassingen aan de server zijn altijd mogelijk; overleg gewoon met ons
• Puntensysteem: je krijgt punten door te spelen. Hiermee kun je ranks kopen, teleporteren en je huis beschermen
• Alles wat in standaard Minecraft kan kost geen punten
• Huizen en kisten kun je beschermen tegen griefers
• Chatgroepen en Discord
• Winkelsysteem met kisten voor handel tussen spelers
• Server bestaat sinds april 2011 en we spelen al in dezelfde wereld sinds december 2013. Al je gebouwen blijven dus lang staan.
Lijkt deze server je wat? We hebben geen whitelist, dus je kunt meteen inloggen op mc.marijnk.nl. Na maximaal 10 minuten kun je al bouwrechten krijgen. Pak een mijnkar of een boot, en ga aan de slag. Hopelijk tot snel!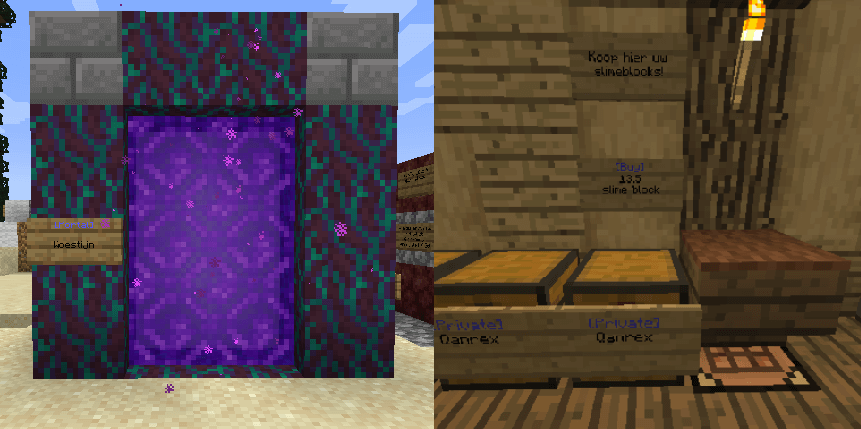 Bouw zelf portalen en winkels

Bekijk de live-kaart op mc.marijnk.nl
What is the server IP for Wereldbouw?
The IP address of Wereldbouw Minecraft server is mc.marijnk.nl
How do I play on the Wereldbouw Minecraft server?
Open the Minecraft launcher, next click the "Play" button, then select "Multiplayer" from the main menu.
Click the "Add Server" button to open the server information form then copy & paste the IP Address mc.marijnk.nl in the "Server Address" box then press click on "Done" button.
Once the connection to the server is verified by Mojang session servers and is available, the connection icon will turn green and you can click on the "Join Server" button to play on Wereldbouw.
What Minecraft game version does Wereldbouw server support?
Wereldbouw supports Minecraft version: 1.19.4.
Keep in mind that many Minecraft servers might allow players to use older or newer versions, so we invite you to check on their Discord server or Website for more information on version compatibility.
Where is the Wereldbouw Minecraft Server being hosted?
The Wereldbouw server is currently hosted in Netherlands with an uptime of 100%.
What gamemodes can I play on the Wereldbouw Minecraft Server?
You can play Discord, Economy, Land Claim, Paper, SMP, Survival on the Wereldbouw server.
What is the website for the Wereldbouw Minecraft Server?
The website link for Wereldbouw is https://rutgerkok.nl/minecraft.